We have the 4th grade Cougar Robotics team competing at state today in Indianapolis! Good luck Cougars!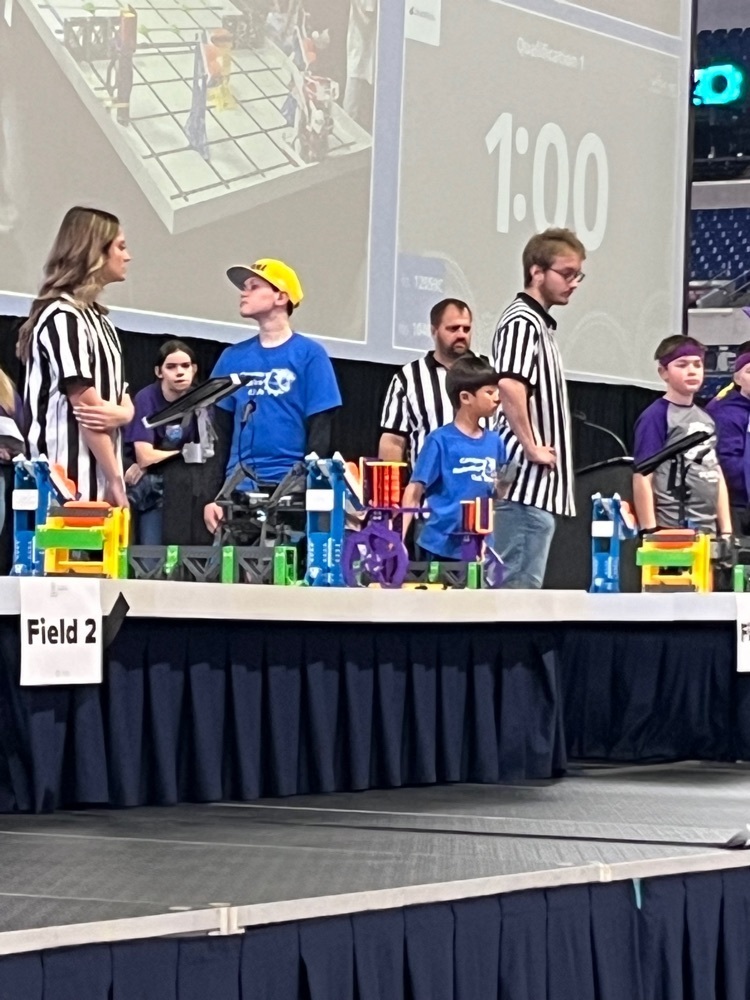 Whether you are doing a staycation or a vacation, we hope all our students and families have a wonderful Spring Break. We look forward to hearing lots of great stories when we see you again on April 3rd!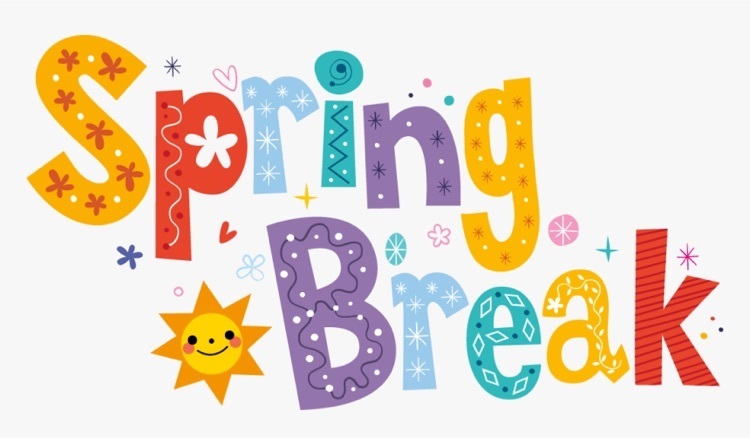 Thanks to CES student council and MaryMax 5 in Logansport, the BFG has went from the book to the big screen! Popcorn, pop, and positive vibes were enjoyed by all!
Congratulations Braden, you are officially our Cougar of the Day! Braden was nominated by Miss Stout because he shows integrity, kindness, and effort even when the work gets tough. Well done Braden!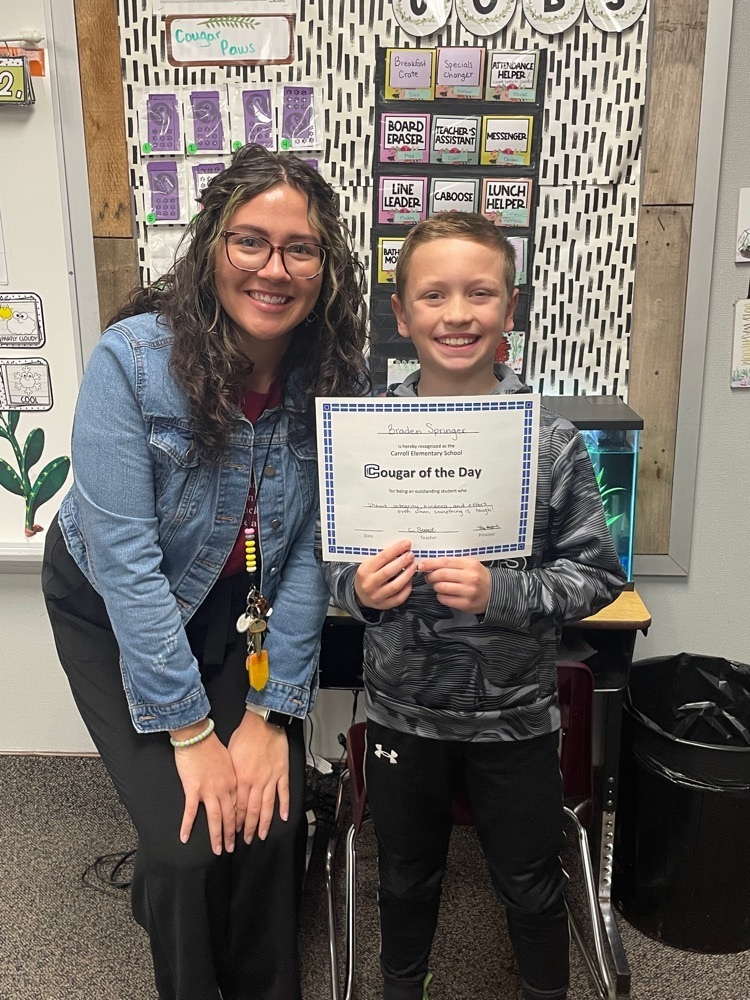 Thanks to NIPSCO for sending our new Ute friends (all the way from Utah) to teach our 4th grade students about natural/renewable resources and utility safety!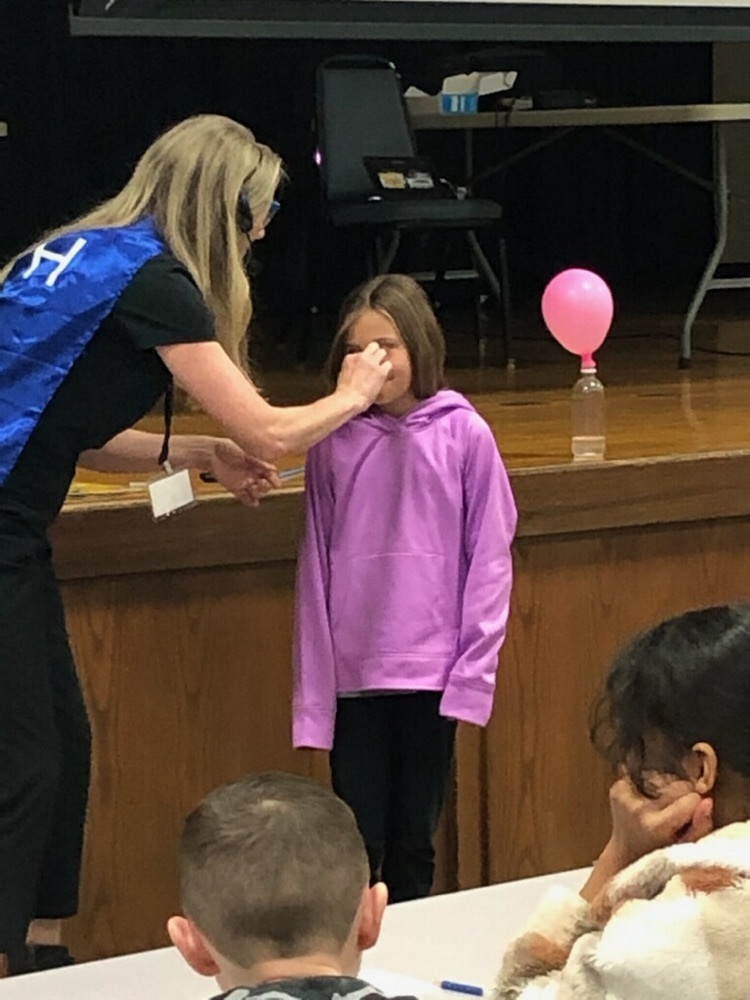 Help me celebrate Matthew as our Cougar of the Day today! Matthew was nominated by Mrs. Sanders because he is always happy, works hard, is cooperative, and always enjoys a good challenge (especially when working in vocabulary)! Awesome job Matthew!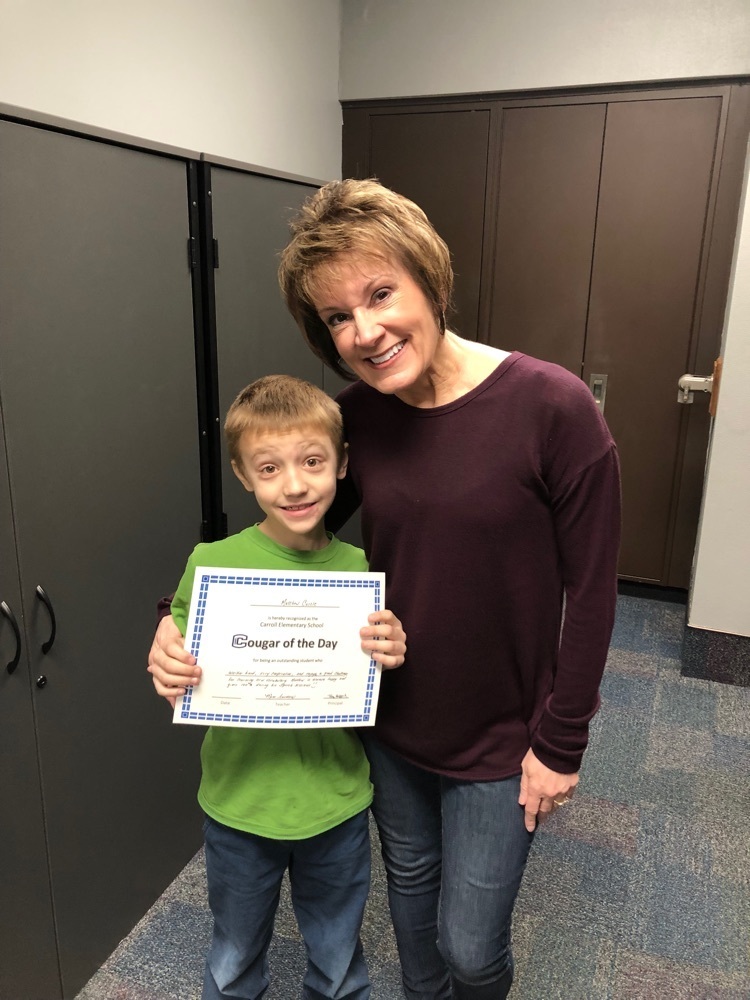 Congratulations Maiya for being our Cougar of the Day today! Mrs. Salts noted that Maiya always works hard to accomplish her goals! We are proud of you Maiya!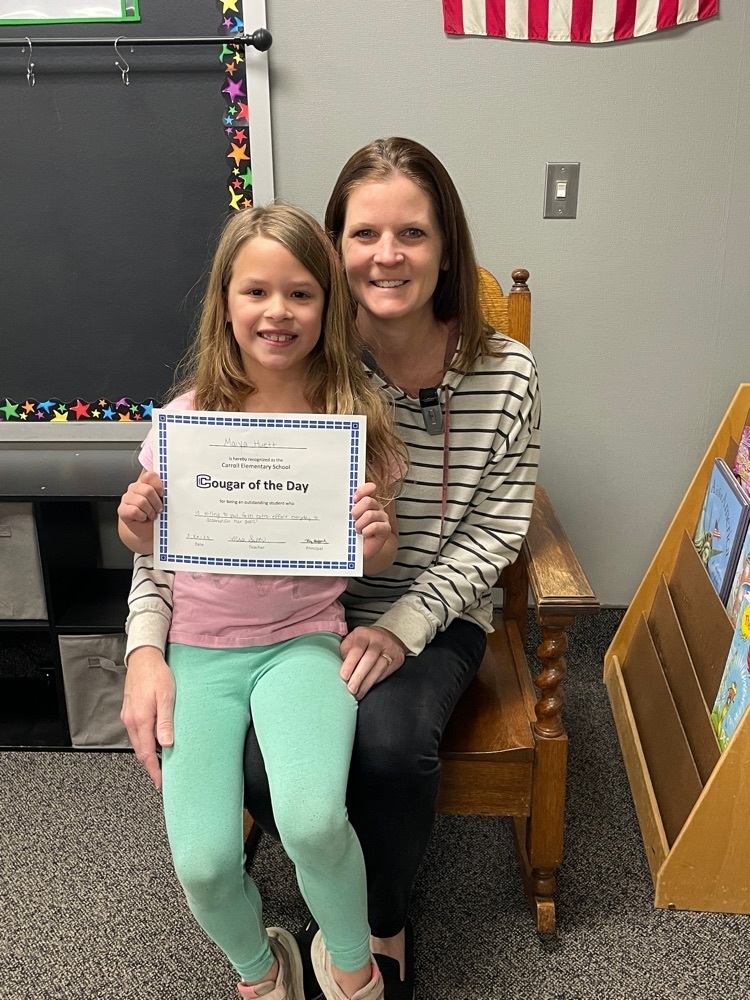 Super cool kid alert! This past Friday Emmie gave up her recess to share a St. Patrick's Day book with Mrs. Adam's first grade, and engaged them in some great conversation afterwards. It's great to see our older students modeling great leadership! Awesome job Emmie!
One week remains to sign up for FREE Arts programming with the Delphi Opera House. Included is free transportation to and from our school!
Know someone who is interested in babysitting, but isn't sure where to begin. Early Learning Alliance Carroll County can help with their upcoming Babysitting Basics classes. The first will be April 22. Please see the picture for more details, and spread the word!
Not sure if he's Irish, but JA is for sure our Cougar of the Day! Mrs. O'Brien nominated him because he works hard and always uses his best manners. Well done JA!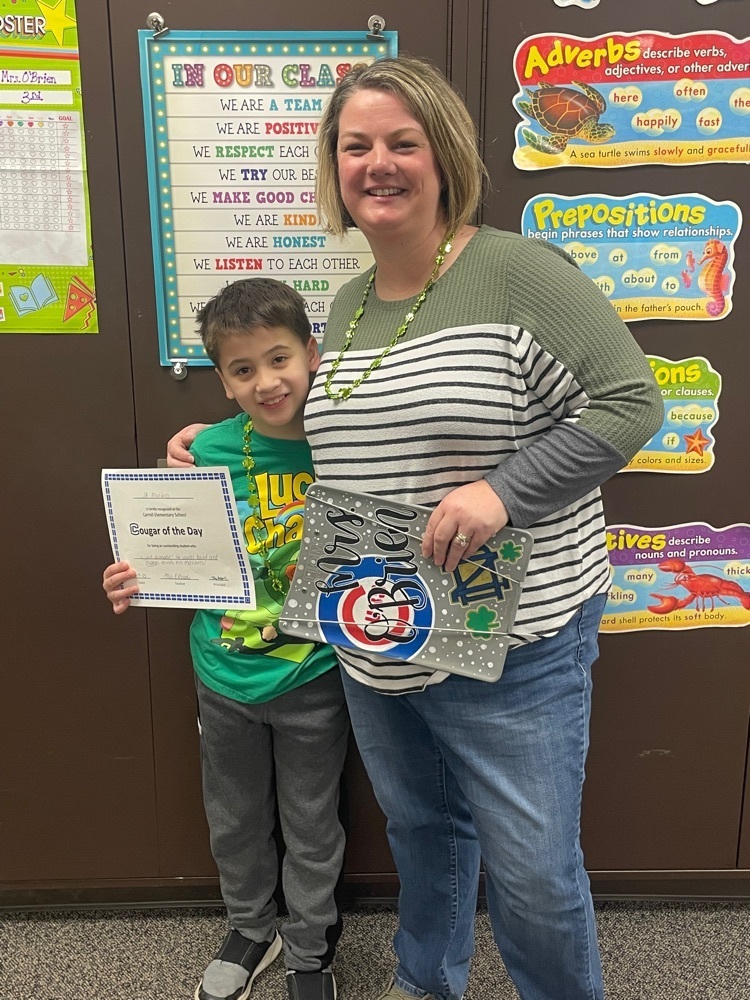 Brantley is our super amazing Cougar of the Day today! Miss Brown nominated Brantley because he comes to school ready and excited to learn daily. Well done Brantley!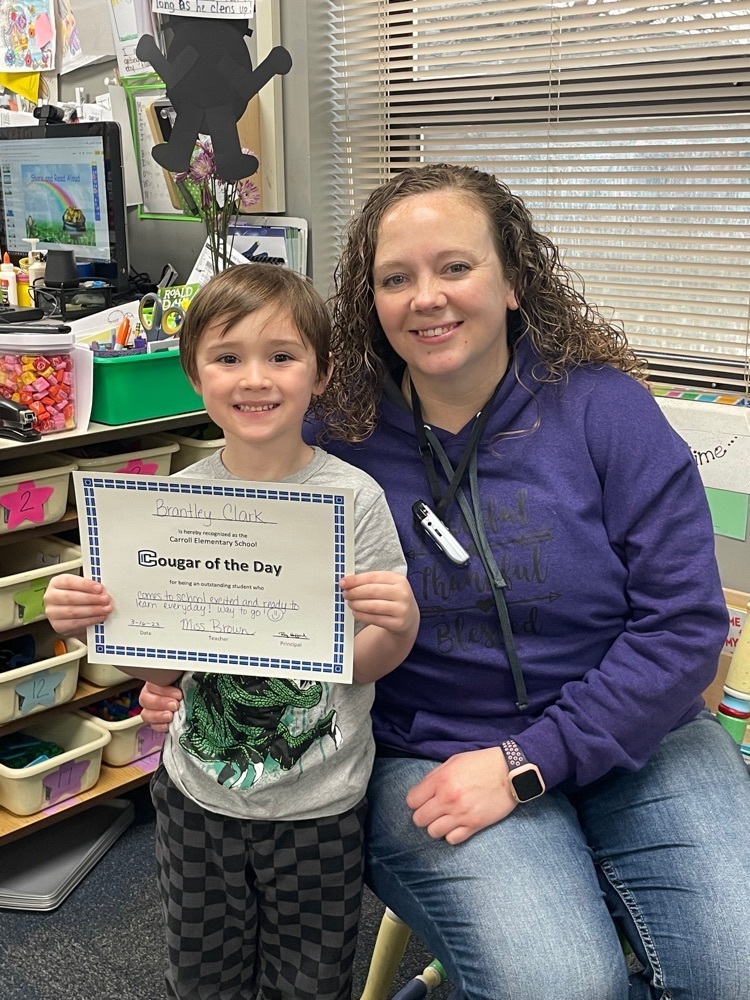 Let's celebrate Carver for being our Cougar of the Day today! He was nominated by Mrs. Conn because he always shows integrity, and makes good choices when it isn't cool and when no one is looking. Well done Carver!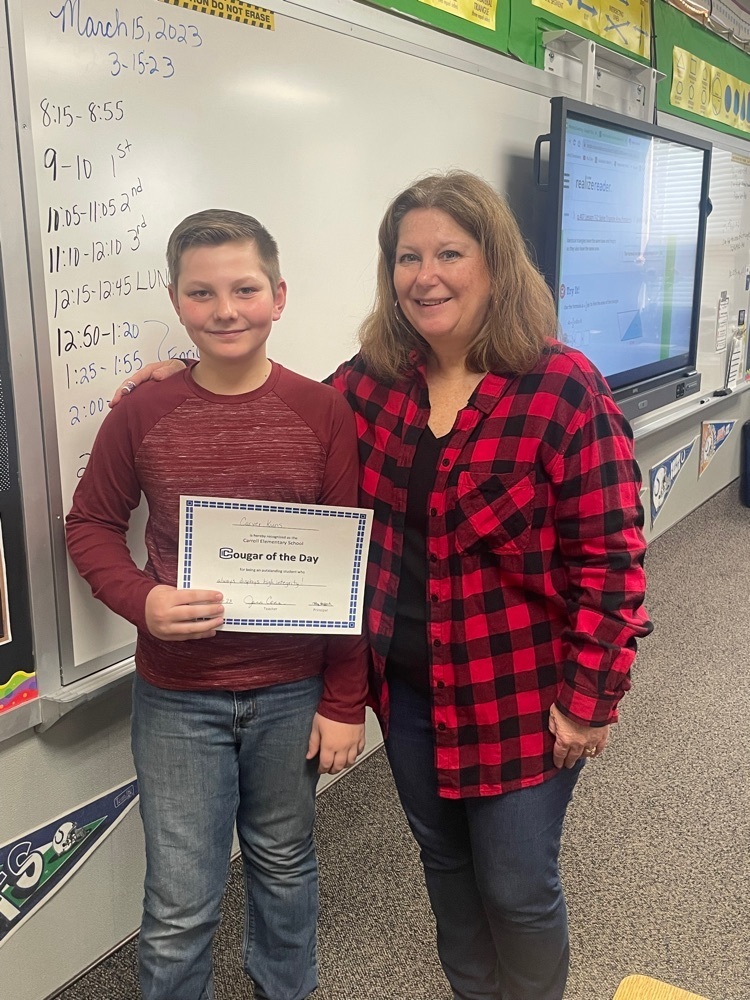 Congratulation to Ivery for being named Cougar of the Day today! Mrs. Meek nominated her because she has a positive attitude everyday and perseveres through challenges. Well done Ivery!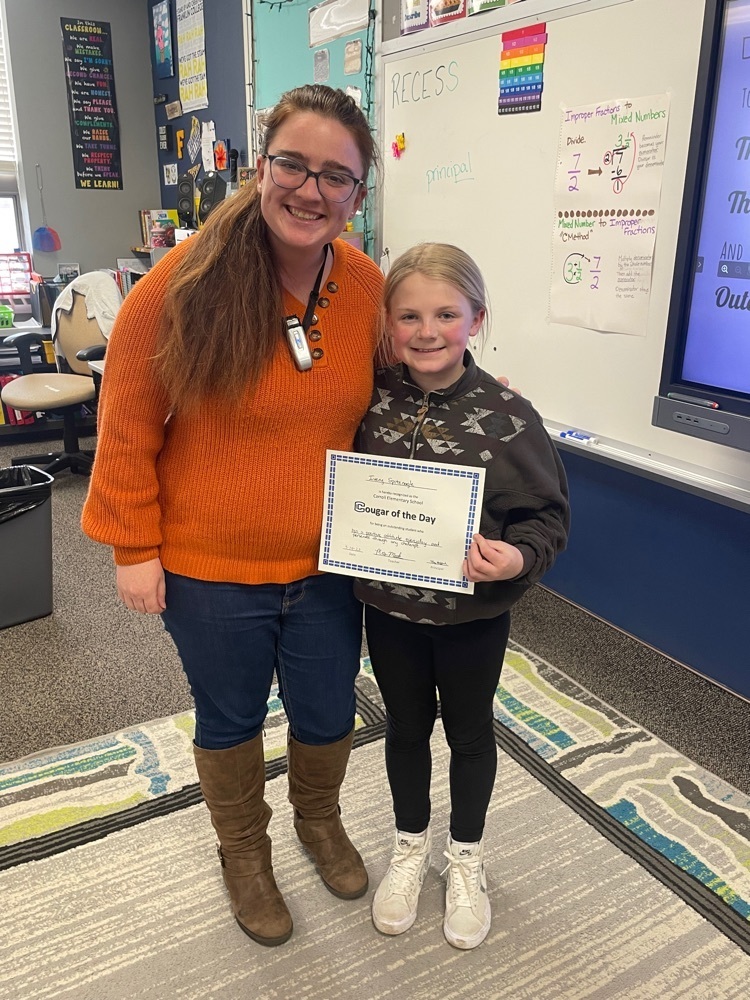 Way cool kid alert... Last week we had a hat day ($1 per student to support Paw Shop rewards for all students). Emmitt wanted all kids in his class to be able to participate so he donated enough money for everyone to be able to wear hat. What a big heart this kiddo has. Well done Emmitt! PS Emmitt wanted no publicity for this, but it's a pretty cool story that needs shared.
The Carroll Spring Spirit Wear Sale is live! Choose from hundreds of designs and garments that are delivered to your home in days! You'll save 25% off the entire site! New product lines include Nike and Adidas! Shop at
https://1stplace.sale/34378
.
Congratulations Malachi for being named Cougar of the Day today! Malachi was nominated by Mrs. Allen because he consistently works hard and has a positive attitude. Well done Malachi!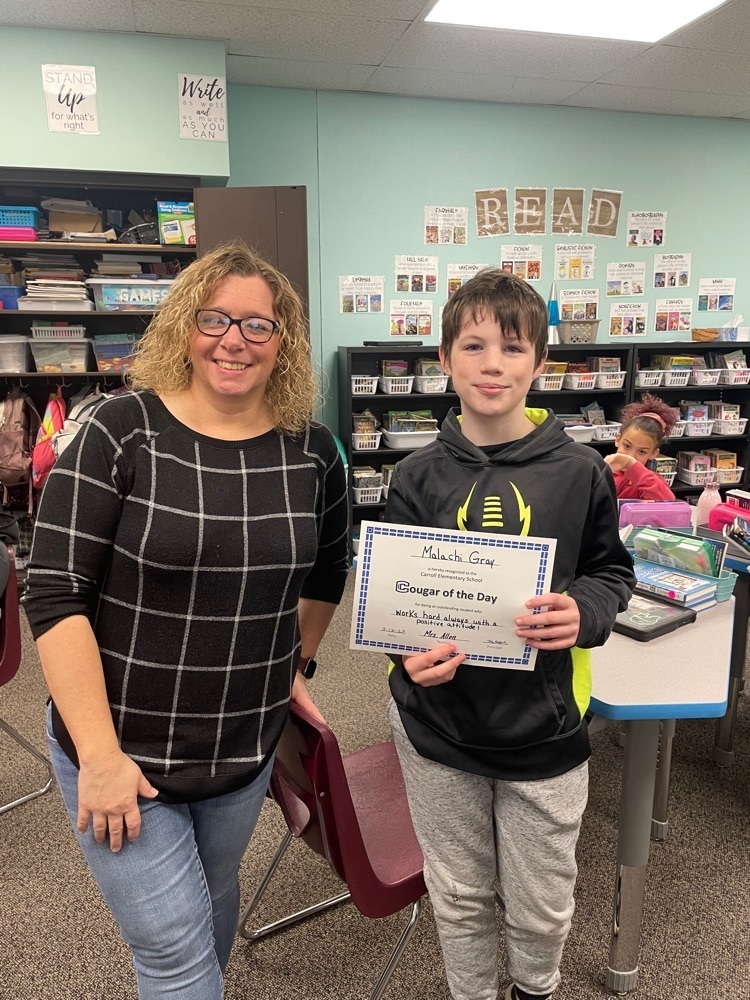 Our 6th grade Lady Cougars finished an outstanding season with a runner up finish at the conference tourney. Congratulations on a great season, well done ladies!
5th Grade Lady Cougars win the Clinton Prairie Tournament today defeating Rossville and then Prairie in the finals. Finish the season 10-1.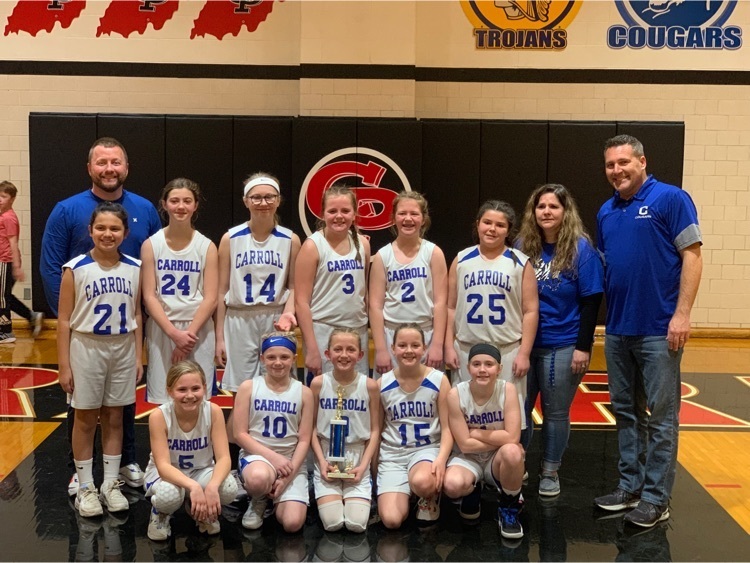 This week the Flora Monroe Township will partner with the CES library for their annual One School, One Book giveaway! There are 20 books in each library that have been flagged in the computer system. Any student who checks out one of these books will get a chance to spin the prize wheel at the Flora library. Good luck to all students! PS...This is also a good time to remind everyone that ALL CES students are eligible to get a free library card for use at the Flora library. So everyone is able to participate at both libraries!